Luciano Di Martino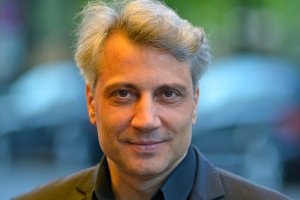 "…Italian conductor Luciano di Martino made an excellent debut with Israeli Opera. His conducting was precise and controlled, with excellent balance achieved between the orchestra and the singers…" Opera News, Jehoash Hirshberg
A dynamic and accomplished presence both on the orchestra podium and in the opera pit, Luciano Di Martino is highly acclaimed for his intensity and spontaneity, his precision and musicianship.
Di Martino began his career in 1996 with the Hamburg Symphony Orchestra, conducting a concert dedicated to the composers Franz Berwald, Lars-Erik Larsson and Hugo Alfvén.
He has appeared as a guest conductor with the Mariinsky Theatre Symphony Orchestra, the Israel Symphony Orchestra Rishon LeZion and the Novosibirsk Philharmonic, where he successfully conducted works by Stravinsky (The Rite of Spring), Shostakovich (Symphony Nr. 11) and Mahler (Symphony Nr. 5).
Since 2008, Luciano Di Martino has been a regular guest at the Hamburg State Opera, where he successfully conducted numerous performances of Verdi's "La Traviata" as well as in 2014 Lera Auerbach's ballet "The Little Mermaid", choreographed by John Neumeier, with the Hamburg Ballet and the Hamburg State Philharmonic Orchestra. In 2016, also in Hamburg, he conducted Andreas Homoki's new production of Verdi's "Luisa Miller".
Luciano Di Martino made his highly successful debut in April 2012 at the New Israeli Opera in Tel Aviv, directing Mariusz Trelinsky's stylized and powerful production of Puccini's "Madama Butterfly", a co-production with the Teatr Wielki Warszawa.
He was appointed in 2012 member of the advisory council of TONALi's Competition in Hamburg and conducted the Finale Concert at the Musikhalle with the Hamburg Symphony Orchestra.
Following his debut in 2010, he has maintained a close collaboration with the Mariinsky Theatre in St. Petersburg, conducting the new production of Verdi's "Attila" during the Stars of the White Nights Festival as well as revivals of "Aida", "Don Carlos", "I Pagliacci", "La Sonnambula" and Mendelsssohn's oratorio "Elijah" with the Mariinsky Theatre Chorus and Symphony Orchestra. He also directed a highly acclaimed new production there of "L'Elisir d'Amore" in 2011, staged by Laurent Pelly and with star soprano Anna Netrebkko, a co-production of the Royal Opera House Covent Garden and the Opéra Bastille in Paris.
He was guest Conductor with the Orchestra of the Latvian National Opera Riga, the Thessaloniki State Symphony Orchestra, the Classic FM Radio Orchestra, the Symphony Orchestra of Bulgarian National Radio, the Orchestra Sinfonica Siciliana in Palermo as well as with philharmonic orchestras in Katowice, Macerata, Bursa and Baden-Baden.
Other important stages in Di Martino's career were conducting "Lucia di Lammermoor" at the Historic State Theater in Minneapolis, "Otello" and "Tosca" at the Novosibirsk Opera Theatre, "La Traviata" and "Carmina Burana" at the Thessaloniki Megaron Concert Hall, "Madama Butterfly" at the Theater Lübeck and "Don Giovanni" and "The Magic Flute" at the Staatstheater Nürnberg.
Since 2005, Di Martino has been a permanent guest conductor of the FM-Classic Radio Orchestra in Sofia. His live television broadcasts include gala concerts with such distinguished singers as Kammersängerin Anna Tomowa-Sintow, Ghena Dimitrova, Alexandrina Milcheva, as well as symphony concerts with star soloists Pepe Romero, Uto Ughi, Leticia Moreno and Maxim Vengerov.
In 2004 he conducted Boris Christoff's anniversary concert at the Sofia National Opera and in 2006 came Verdi's "Messa da Requiem" in memory of Ghena Dimitrova.
He currently holds the position of Artistic Director at the State Opera and
Philharmonic in Plovdiv, Bulgaria, European Capital of Culture in 2019 and works as Guest Conductor at the Sofia National Opera.
Graduated in 1996 from the Hamburg University of Music and Drama with a degree in orchestral conducting, Di Martino won a scholarship to Siena, at the Accademia Chigiana, where he attended international master classes given by Ilya Musin, Valery Gergiev and Myung-Whun-Chung.