Godsmack rock band lead singer Sully Erna to perform major solo concert once again in Sofia this autumn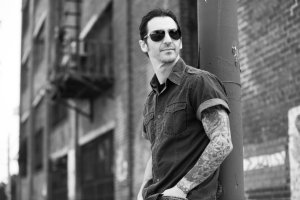 The show scheduled for September 26 in Arena Armeec marks the 11th anniversary of Bulgaria's rock radio station, Radio Z-Rock
July 3, 2017, Sofia
Lead singer of American cult rock band Godsmack is to once again visit Sofia this autumn for a major solo concert, organized by music company Cantus Firmus. This concert is part of a large-scale European tour, which also includes shows in such cities as Brussels, Amsterdam, Berlin, Stockholm, Warsaw, Moscow, St. Petersburg, and London. Bulgaria is the only East European stop on this tour. Fans will have the chance to see the famed vocalist along with his solo project band live in concert on September 26 at Arena Armeec Hall starting at 8PM. This event marks the 11th anniversary of Bulgaria's rock radio station, Radio Z–Rock.
Sully Erna is one of the greatest contemporary rock artists, who is the main singer and songwriter of Grammy award nominated band Godsmack. Sully caused great excitement with his debut in Sofia last year, which was part of the "Music of America" concert series. He performed two sold-out back-to-back concerts in NDK's Hall One on October 20, 2016, and was joined on stage in this emotional performance by fellow guitar players Chris Lester and Tim Theriault. At the event, Sully promised to return to Bulgaria once again and bring his entire band with him. Less than a year later, it looks like the vocalist is going to live up to his promise and deliver a truly magnificent production, which is also to include members of the Classic FM Radio Orchestra. Arena Armeec will proudly host Sully's concert, comprising songs from his solo albums, special arrangements of Godsmack's favourite hits, as well as a few musical surprises.
Tickets for this concert go on sale July 3 at 12 noon. Tickets are priced at 50 BGN, 70 BGN, and 90 BGN, and are available online exclusively at www.ticketsbg.com and through Eventim's network.