National Music School's Young Talent Opens the EMF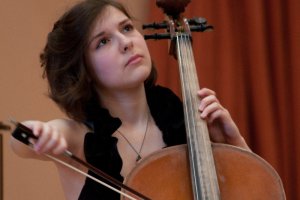 Penka Petkova and Yoanna Russeva make their debut with the Classic FM Radio Orchestra
On February 27, 2013 at 7:30PM, the European Music Festival, which is organized by Cantus Firmus and Classic FM Radio, and supported by the Municipality of Sofia and Republic of Bulgaria's Ministry of Culture, will present its opening concert at Bulgaria Concert Hall. The concert will feature talented young students from the L. Pipkov National Music School in Sofia. Cellist Penka Petkova and violinist Yoanna Russeva will make their debut as soloists of the Classic FM Orchestra conducted by Grigor Palikarov. In order to participate, the two young soloists were carefully selected by the Arts Council at the National Music School and the presenters at Cantus Firmus. They will be performing Edouard Lalo's Cello Concerto and Max Bruch's Violin Concerto, respectively. This concert program will also feature Der Freischütz Overture by Carl Maria von Weber.
High school senior Penka Petkova began playing the cello when she was six, as a student of Daniela Cherpokova at the L. Pipkov National Music School. She is a Laureate at a number of international competitions, and was presented with a diploma by the Minister of Culture and the honorary title of Worthy Bulgarian by 24 Hours newspaper and Bulgarian National Television. In the fall of 2013, she will continue her studies at the Guildhall School in London.
Yoanna Russeva is in the 8th grade at the National Music School and, according to her teachers, is already a professional musician, even though she is only 14. In 2010, she received first prize at the Nedyalka Simeonova International Competition, as well as first prize at the Dobrin Petkov Competition in Plovdiv. She dedicated her performance there to her late grandmother, who had directed her towards music and the violin.