Ludmil Angelov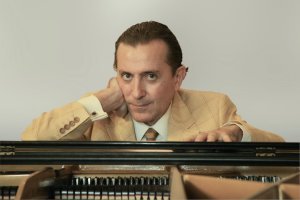 Born in Varna, Ludmil Angelov is an alumnus of the National Academy of Music in Sofia. He is a student of Viktoria Spasova, Ludmila Stoyanova and the phenomenal pianist and pedagogue Konstantin Stankovich. Ludmil Angelov has won numerous prizes at international competitions, including Virtuosi of Piano Music, Czech Republic, Senigallia, Italy, Frederic Chopin, Poland, Palm Beach International Competition, USA, Piano Masters, Monte Carlо and World Piano Masters Tour, France.
Popular all over Europe, the USA, South America, Hong Kong, Korea and Taiwan, Ludmil Angelov has given recitals and chamber music concerts and has played as soloist with all Bulgarian and many prestigious international orchestras under the baton of conductors such as Lawrence Foster, James DePreist, Jean-Bernard Pommier, Marc Andreae, George Pehlivanian, Fedor Glushchenko, Josep Pons, Pedro Halffter, Enrique García Asensio, Ruslan Raichev, Mihail Angelov, Emil Tabakov, Georgi Dimitrov, Vladimir Ghiaurov and Rosen Milanov.
During the 1987/1988 season Ludmil Angelov performed in Bulgaria Chopin's complete piano works in a cycle of twelve recitals. In 1999 he performed Chopin's Complete Works in Madrid and other cities in Spain with enormous success. The pianist gave his New York debut recital at Lincoln Center in 1990. He has also played at the halls of the Berlin Philharmonic, Pleyel and Gauveau in Paris, Hercules in Munich, Concertgebouw in Amsterdam, the Opera of Monte Carlo, Bruknerhaus in Linz, Auditorio Nacional in Madrid, Auditori in Barcelona, Palau de la Música in Valencia, the concert halls of the Moscow and Milan conservatories, the Palace of Music in Athens, KBS Hall in Seoul, and other many other venues.
Ludmil Angelov lives in Spain, where he founded and is the current Artistic Director of the International Music Festival in Toledo.
The pianist has made recordings for RСА, Gega New, France Classique, Pentatone, and Danacord. His performances have been broadcast by radio and TV networks in Bulgaria, France, the UK, Spain, Poland, Hungary, the USA, Argentina and Korea. His recording of Chopin's Complete Rondos & Variations was awarded the Grand Prix du Disque Chopin by the International Chopin Institute in Warsaw.
During the 2009/2010 concert season, Mr. Angelov completed several tremendously successful projects, such as the Chopin complete works six-concert cycle in Spain and in Bulgaria, as well as concerts in Belgium, Italy, France, Germany, Poland, Serbia, Slovenia, South Korea, and the U.S. He also recorded all five piano concertos by Pancho Vladiguerov for British CD label Toccata Classics.
Ludmil Angelov is the winner of the Apollo Toxophorus Award of the Apollonia Art Foundation. He is Corresponding Member of the Royal Academy of Arts in Toledo.
Since season 2011-2012 Ludmil Angelov is honorary professor in New Bulgarian University.