PIXAR IN CONCERT AND FRANK SINATRA FEATURED IN MUSIC OF AMERICA'S SIXTH SEASON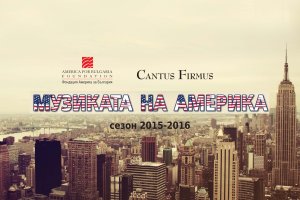 Subscription tickets go on sale today
September 1, 2015, Sofia
For the sixth year in a row, music company Cantus Firmus along with America for Bulgaria Foundation are to present the "Music of America" concert series, featuring the Classic FM Radio Orchestra. This coming season, the concert series includes four concerts with emblematic all-American programs. On November 14, "Music of America" will open with "Perfectly Frank – A Century of Sinatra" – a program featuring Broadway artist Sal Viviano. Under the baton of conductor Grigor Palikarov, Sinatra's unparallelled genius will be revived with hits such as "The Way You Look Tonight", "My Way", "Fly Me to the Moon", and "New York, New York".
On January 30, Hollywood visits Sofia, represented by conductor Conrad Pope, who has worked closely with some of Hollywood's most recognized names in film music, such as John Williams, Hans Zimmer, and Alan Silvestri, among others. Conrad Pope has worked as composer, arranger, and conductor in many films, and has scored the music for successful productions such as the Harry Potter series, Star Wars (including the franchise's most recent instalment, Star Wars: Episode VII – The Force Awakens). In Sofia, Pope is to conduct the music scores from the films Star Wars, Harry Potter, Out of Africa, The Color Purple, and My Week with Marylin. The series next concert project is also related to the film genre. For the first time in Sofia, on February 28 Bulgarian concertgoers will be able to experience Disney's PIXAR in CONCERT production. The beloved characters from Toy Story, Cars, Finding Nemo, Brave, Ratatouille, and Monsters, Inc. will come to life on the big HD screen at the National Palace of Culture, Hall One. The live music, composed by Randy Newman, Michael Giacchino, and Patrick Doyle, will be performed by the Classic FM Radio Orchestra, conducted by Maxim Eshkenazy.
The series final concert is scheduled for March 10, 2016, with a concert titled "Soul of America", presenting famed American conductor André J. Thomas. This program will feature highlights from George Gershwin's opera, Porgy and Bess, as well as gospels and spirituals, which are traditional for American music and are an integral part of its culture. Soloists for this concert are brilliant singers NaGuanda Nobles (soprano), and Ben Polite (bass-baritone), who will be joined by the Classic FM Radio Orchestra and Choir.
Subscription tickets go on sale today at the Cantus Firmus box-office at Bulgaria Hall. Each subscription cycle includes three concerts (November 14, January 30, and March 10). Tickets for the PIXAR in CONCERT program will be released later on, and subscription ticket holders will be eligible to purchase tickets for this concert at a corresponding discount. Subscription ticket holders are also eligible to enroll in a ticket raffle for a total of 10 tickets to the Richard Clayderman concert on December 7, 2015. Our box-office hours of operation are Monday through Friday, 9:30AM to 1:30PM and 3PM to 7PM. You can also purchase tickets online at www.TICKETSBG.com.