Maxim Vengerov is the star of the 2018 European Music Festival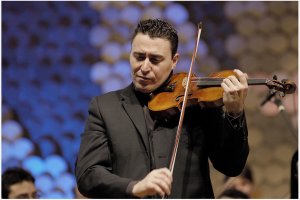 On March 30, the violinist is to perform Johannes Brahms' Violin Concerto at the Festival's opening concert
February 12, 2018, Sofia
Brilliant Russian violinist Maxim Vengerov is the star of this year's edition of the European Music Festival, organized by music company Cantus Firmus. On March 30, the renowned musician is to take part in the Festival's opening concert, performing Johannes Brahms' Violin Concerto. Vengerov is joined by the Sofia Philharmonic under the baton of Nayden Todorov. The program also includes Brahms' Symphony No. 1. This major event is to take place at the National Palace of Culture, Hall One, starting at 8PM. It is one of the highlights of Sofia's official cultural program during the Bulgarian Presidency of the Council of the EU. The 2018 European Music Festival presents a total of 13 events with more than 350 musicians. The Festival program includes symphony and chamber music concerts, jazz and film music concerts, as well as a special program for children. This year, the EMF welcomes musicians from Italy, Spain, Austria, USA, and Russia, among other countries. The Festival is part of the 2018 Sofia Cultural Calendar, organized by the Sofia Municipality and co-organized by Bulgaria's Ministry of Culture.
During the 2017/2018 concert season, Maxim Vengerov continues his remarkable career as violinist, conductor, and pedagogue. In October 2017, he performed two outstanding concerts at Carnegie Hall in New York with the Orchestre symphonique de Montréal conducted by Kent Nagano. That same month, he also performed the world premiere of a Violin Concerto, dedicated to him by Chinese composer Qigang Chen. This performance was part of the Beijing International Music Festival and Academy. In January 2018, Mr. Vengerov gave a dazzling chamber music recital at the prestigious Strathmore Hall in Washington, DC alongside pianist Roustem Saïtkoulov. The Washington Post's called Vengerov's playing "as breathtaking as ever" and remarked that "Vengerov plays with such innate ease that difficulty doesn't really register as such." Also in January, Maxim Vengerov appeared as conductor and soloist at the International Menuhin Music Academy in Switzerland, with special guest artist Cecilia Bartoli. Upcoming engagements include concerts in Zurich and Santiago, as well as a master class in London.
Maxim Vengerov's concert in Sofia on March 30, 2018 is eagerly expected by Bulgarian concertgoers, who remember the violinist's first concert in Bulgaria back in 2006, alongside the Classic FM Radio Orchestra. Tickets are on sale with certain hall sections already sold out. Tickets can be found at Bulgaria Hall's box-offices, at the National Palace of Culture ticket center, as well as online at www.ticketsbg.com.