Georgi Cherkin With a New Arrangement of Mozart's Rondo Alla Turca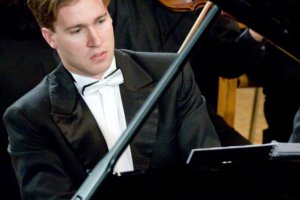 June 5, 2013, Sofia. Mozart's famous Rondo Alla Turca will be performed in a new arrangement in The Concertmasters final concert, as part of the 2013 European Music Festival. The concert will take place on June 7, 2013 at Bulgaria Hall, with the Classic FM Radio Orchestra performing under conductor Grigor Palikarov. Especially for this concert, Mr. Cherkin prepared the orchestration for piano and orchestra of Mozart's masterpiece, Rondo Alla Turca (the third movement from his Piano Sonata No. 11). The pianist will also perform Mozart's Piano Concerto No. 17. In recent years, Georgii Cherkin has been actively composing and orchestrating. His first attempts in these fields (as a hobby) date back to his years as a high school student. In 2008, he received several commissions, which he completed successfully and which can now be heard on YouTube. In 2010, Mr. Cherkin orchestrated three of the most beloved classical music works – Beethoven's Moonlight Sonata and Für Elise, and Tchaikovsky's Four Seasons. The concert, presented as part of The Concertmasters series, triggered tremendous interest in Sofia's cultural life.
The 2013 European Music Festival is part of the Sofia Municipality cultural events calendar, and takes place in support of the 2019 Sofia candidacy for a European cultural capital. The Concertmasters series is part of the EMF, supported by the Sofia Municipality Cultural Program.