Sofia Jazz Peak and the European Music Festival Present German Jazz Trio SOLEA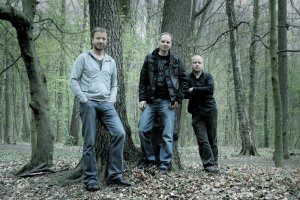 June 6, Sofia. Next week, one of Germany's leading jazz ensembles – Trio SOLEA – will be arriving in Bulgaria. The trio, including Markus Horn, piano, Lars Hansen, bass, and Heinz Lichius, percussion, will be performing on stage at Sofia Live Club on June 13, 2013 at 8PM. The concert is part of the Sofia Jazz Peak forum, as well as part of the European Music Festival, and is made possible in part by the Goethe-Institut in Bulgaria.
Leading member Markus Horn studied piano with a focus on jazz and pop in Amsterdam, as well as at the Hannover University for Music and Drama. As a member of various jazz groups, he has performed in Germany, Switzerland, Finland, Denmark, Hungary, Bulgaria, the U.S., Singapore, Malaysia, Vietnam, Indonesia, and Chile. Since 2004, Markus Horn has been a jazz piano lecturer at the Hannover University for Music and Drama. Bass player Lars Hansen successfully collaborated for many years with the ethnojazz-oriented award-winning Bernd Homann Quartet, and recently toured with the band of Canadian singer-songwriter Paul O'Brien. Heinz Lichius is one of the most sought after German drummers. He has worked with artists such as Michel Petrucciani, Joe Sample, Bob Mintzer, Pee Wee Ellis, Philip Catherine, Delfeayo Marsalis, Jose Gallardo, Steve Swallow, Tony Lakatos, and Omar Sosa, among many others. All three members of the trio are lecturers at the Hannover University for Music and Drama.
The 2013 European Music Festival is organized by Cantus Firmus and is part of the Sofia Municipality cultural events calendar. It takes place under the patronage of Yordanka Fandakova, Mayor of Sofia, in support of the city's 2019 candidacy for a European cultural capital.