Elin Kolev Becomes a Cantus Firmus Artist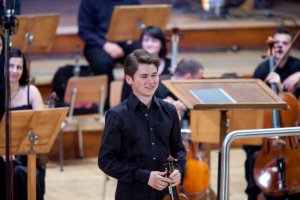 17 June 2013, Sofia
16-year-old violinist of Bulgarian descent Elin Kolev, who only a month ago conquered Sofia concert-goers with his solo debut, has signed an exclusive contract with music company Cantus Firmus, which will present him in all his concert appearances in Bulgaria. Raised in Germany, where his parents worked as musicians, Elin began playing the violin at the age of five. His official debut as soloist with orchestra was at the age of eight, and at 12 he was already playing on stage at the famous Carnegie Hall in New York.
Mr. Kolev has participated in two German film productions, and is the recipient of the 2010 Young European Talent, awarded by Germany's European Cultural Foundation. He made his Bulgarian debut on May 14, 2013 as soloist of the Classic FM Radio Orchestra, as part of The Concertmasters series and the European Music Festival. Our facebook page read "Bulgaria loves you, Elin!" – written by extatic fans, who had filled up Bulgaria Hall to the top.
With this contract, Elin Kolev joins Cantus Firmus's first-class roster of artists – violinists Vesko Panteleev-Eschkenazy, concertmaster of the Royal Concertgebouw Orchestra in Amsterdam, Mila Georgieva, concertmaster of the Stuttgart Radio Symphony Orchestra, and Svetlin Roussev, concertmaster of the Radio France Philharmonic Orchestra; pianists Liudmil Angelov, Plamena Mangova, Georgii Cherkin, Aglika Genova and Liuben Dimitrov; and conductors Maxim Eshkenazy, Grigor Palikarov, and Lucciano di Martino, among others.