Elin Kolev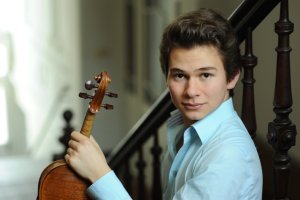 Elin Kolev was born on 1996 in Zwickau. In 2006 he was admitted as an exceptionally gifted young student to the University of Music and Theatre Felix Mendelssohn Bartholdy, Leipzig to study with Professor Carolin Widmann. Additionally, Elin attended masterclasses from Professors Dr. Friedemann Eichhorn, Thomas Brandis, Reiner Kussmaul, Igor Ozim, Pamela Frank, Gabor Takacs-Nagy, Zakhar Bron and Sashko Gawriloff.
Since 2010 he is a student of the concert violinist and professor for music Josef Rissin. During this time, he has evolved from a young musician to a highly – qualified concert violinist with incredible stage experience. For three years he was a member of the pre -class for extraordinarily talented musicians at the University of Music Karlsruhe, where he began his regular studies for a Bachelor in Violin in 2013.
When he was only eight years old Elin had his debut as a soloist with the Vogtland Philharmonic Orchestra. There he inspired over 5.000 spectators. He gave many concerts playing in the Saxony area as well as in Brandenburg, Bavaria, Thuringia, Baden–Württemberg, Italy, Switzerland, Bulgarian and Austria. In April and May of 2009 Elin was on his first U.S. Tour through Virginia, New York, North Dakota und Arkansas. With 12 years the Violinist from Zwickau had his debut in New York's Carnegie Hall. Outside of the concert halls Elin's open-mindedness and his serious but unconventional demeanor have been presented on countless TV networks such as, SWR, RTL, ARD, MDR, rbb, bnt, BTV  and ZDF. He also participated in the ZDF Charity Gala 'Ein Herz für Kinder', among others.
To date Elin has also worked together with conductors including with Stefan Fraas, Jirí Malát, Daniel Lipton, Pavel Baleff, Helmut Branny, Andreas Schüller, Patrick Gallois, Grigor Palikarov, and Jun Märkl. Elin Kolev has performed as a soloist including prestigious halls such as Laeiszhalle Hamburg, Elmau Palais , Bulgaria Concert Hall Sofia, Nicolaisaal, Festspielhaus Baden-Baden, Berlin Philharmonie and New York's Carnegie Hall. His recent debuts include such orchestras as the German Saxon Radio Leipzig Philharmonic Orchestra, the Baden-Baden Philharmonic Orchestra, the Dresden Cappell Soloists, Germany Filmorchesters Babelsberg, Robert-Schumann-Philharmonic, Classic FM Radio Orchestra, Rouse Philharmonic Orchestra and the Jenaer Philharmonic Orchestra. He has recently collaborated with the Europa Philharmonie He has performed Vivaldi's Four Seasons at the Klassik I like it! Festival in Türingen, Germany. Last summer he was invited to the XXII Festival Mitte Europa (Germany) and XI European Music Festival 2013 Sofia (Bulgaria).
Elin's various interests and his many-sided talent helped him to get a leading role in the film 'Wunderkinder' which was produced by Artur und Dr. Alice Brauner. In Juni of 2010 he was selected as one out of 400 children for the role of the Jewish virtuoso violinist Abrascha. Elin Kolev practiced and played each musical piece in the role of the musical wonder child himself. In 2011 Elin performed again in front of the camera. This time he portrays the violinist Bronislaw Huberman in the documentary film production 'Orchestra of Exiles – Bronislaw Huberman'. The director is the American Oscar-nominated Josh Aronson.
Elin has signed an exclusive recording agreement with Sony Classical at age 14 and has recorded the CD 'Elin Kolev'. This CD was the Classic Radio Germany CD of the week and also in the Radio Classic FM Sofia Top7 for 5 weeks.
Festival appearances to date include Rising Stars Series at the Frankische Music Festival (Germany), the Rising Star Series of Arpeggione Music Festival (Austria), the Rising Star Series Teatime Classics (Laeiszhalle) Hamburg (Germany), Kulturring Medebach (Germany), Klassik-I like it in Mageburg, the Sommets Musicaux Festival de Gstaad in Switzerland, XXII Festival Mitte Europa (Germany), 53.International Festival March Music Days Russe, XI Eurpean Music Festival 2013 Sofia (Bulgaria).
Performance highlights for the 2014 season include the concert of the 19."Sächsisch/Böhmisches Kulturfestival" as a soloist with orchestral accompaniment and he will give his debut at the 24.Music Meran Festival in Italy, Forum Brixen und Bozen Italy, Kronberg Academy,  Verbier Festival Academy Switzerland and at the Varna Summer International Music Festival in Bulgarien. He plays the 1780 Giuseppe Gagliano; ex Sättler violin.