Joshua Bell: I've always wanted to visit Bulgaria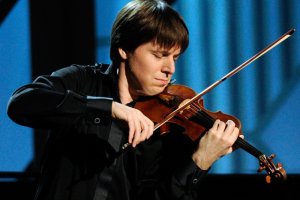 The great American violinist is sure that he will like the audience in Bulgaria and is hoping to sample the tasty local cuisine. After his concert, he will meet his fans and give out autographs in the hall's lobby area.
February 6, 2013. "Ever since I was 14, I've been travelling all over the globe to perform concerts and I've always wanted to come to Bulgaria," shared amazing violinist Joshua Bell in a phone interview, a week before his first visit to this country. "I don't know much about Sofia, but the Bulgarians I know are very openhearted and good friends. So I expect the audience to be the same. I am sure it will be a marvellous experience."
Joshua Bell's concert is this Saturday at 7:30PM at Bulgaria Hall. It is part of the Music in America concert series, organized by Cantus Firmus and the America for Bulgaria Foundation. Along with the Classic FM Radio Orchestra and conductor Maxim Eshkenazy, Mr. Bell will be performing one of the most beloved violin masterpieces – the Tchaikovsky concerto. The program will also include Nikolai Rimsky-Korsakov's Cappriccio Espagnol, three pieces from the ballet Gayane, as well as the work Spirit Rounds by young American composer Roger Przytulski. This work is dedicated to the Classic FM Radio Orchestra for their February 9 concert, with Mr. Przytulski present for the world premiere.