Bulgarian musicians featured prominently at The World of Video Game Music concert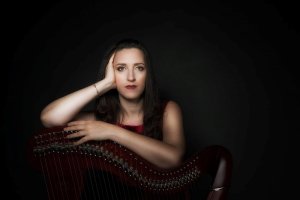 Program is to include music from Assassin's Creed: Rogue, composed by Elitsa Alexandrova, with Vessela Delcheva as vocalist
February 13, 2018, Sofia
"The World of Video Game Music" concert, scheduled on March 14, 2018 as part of the "Music of America" concert series is to feature a strong Bulgarian artists' lineup. The event organizers from Cantus Firmus have announced the addition of yet another Bulgarian name to the program – Elitsa Alexandrova, composer of the music to the video game Assassin's Creed: Rogue. Elitsa is the fourth guest composer on the program, alongside Neal Acree, Penka Kuneva, and Borislav Slavov, all of whom will be attending the concert. This event is organized with the support of the America for Bulgaria Foundation, and is to take place at Bulgaria Hall on March 14, starting at 7:30PM.
Elitsa Alexandrova has established herself as a composer and sound designer at Ubisoft – Sofia, a company which develops video games. She is also a pianist, harpist, and arranger. For over 20 years, Elitsa has participated in a number of musical projects – creating the sound design and original music to a series of video games, composing music for a dance show, as well as music for several short films. Some of her credits as video games composer include Ghost Recon: Shadow Wars, Fashion Designer for Nintendo 3DS, and Tale of Etria.
The rest of the concert program is to include selected excerpts from the popular video games World of Warcraft, StarCraft II, Uncharted 2, Diablo III, Prince of Persia, Divinity: Original Sin 2, and Lord of the Rings Online, among others. All works are to be performed by a full-size symphonic ensemble of the Classic FM Radio Orchestra, led by American conductor Amy Andersson. Composer Neal Acree also takes up the baton to conduct the orchestra for his own works on the program. Adding special vocal color to this otherwise instrumental program is talented singer Vessela Delcheva, who is to perform the vocal solos in some of the pieces. Her role in a few of the numbers is particularly noteworthy, namely, in the musical selections from the video game Everybody's Gone to the Rapture (music by Jessica Curry), as well as in Elitsa Alexandrova's pieces.
Vessela Delcheva is one of the rising young artists at the Stefan Makedonski State Music Theatre. She has already performed the lead roles in a series of musicals and can be seen as Betty Schaefer in Sunset Boulevard during the current concert season. Vessela has worked as a vocal coach for the X-Factor reality TV show and has appeared in the Bulgarian finals for Eurovision in 2007 and 2009.
Tickets for the concert on March 14 range from 20 to 50 Bulgarian leva. They can be purchased at Cantus Firmus' box-office at Bulgaria Hall, or online at www.ticketsbg.com.