Pinchas Zukerman in his Bulgarian conducting debut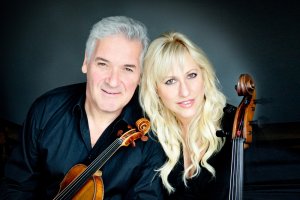 The concert, scheduled for February 15 with the Classic FM Radio Orchestra, is also to include Zukerman's wife, Amanda Forsyth.
February 5, 2014, Sofia
American classical music legend Pinchas Zukerman is coming to Bulgaria for yet another concert, which is part of the Music of America series, and is presented by Cantus Firmus and the America for Bulgaria Foundation. Zukerman can be heard both as soloist and conductor in Beethoven's amazing Violin Concerto on February 15 at 7:30PM at Bulgaria Hall. This concert also features cellist Amanda Forsyth, Zukerman's partner on stage and in life, as soloist in three works by Max Bruch for cello and orchestra. This performance will be yet another challenge for Classic FM Radio Orchestra's first-class musicians, who brought their Bulgaria Hall audience to its feet only a few days ago, when accompanying another world renown violinist, Vadim Gluzman. The orchestra performed with Zukerman back in 2006, at NDK's Hall One, but now it will have the opportunity to work with him as a conductor as well. In 2008, Mr. Zukerman was invited to Bulgaria to perform with his chamber ensemble, Zukerman Chamber Players. Due to flight scheduling problems, the musicians flew in with a charter plane, arriving at the concert hall directly from the airport.