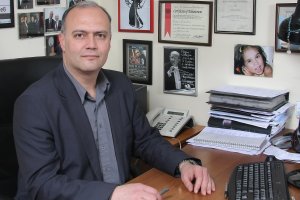 Vassil Dimitrov

Notice: Undefined variable: lang in /home/cantusf/public_html/wp-content/themes/cf-theme/single-cat/single-cat-10.php on line 19


vdimitrov@cantusfirmusbg.com


He graduated at the L. Pipkov National Music School, Sofia (1984) with a major in percussions and at the P. Vladiguerov National Music Academy with majors in choir conducting and opera-symphonic conducting (1990). He has participated in a conducting master course with Prof. Karl Osterreicher in Austria (1988). He has worked as conductor of a number of choirs and of the Stefan Makedonski State Music Theatre (1992 – 1993). He has been a director of the Media Department of the Kres Advertising Agency.
Vassil Dimitrov has a number of specializations in the field of advertising: MARCOM – Western European Experience in Advertising (1993), Modern Means in Advertising and Marketing (1994), Washington D.C., The Voice of America – Radio Management (1997), Washington D.C., New Orleans – Development of Radio and Television Operators Association (1997), Radio Management (1998), Deutsche Welle and Media Development Centre – Sofia, Art Management (2004) United States Department of State Washington D.C. (2004).
Since 1994 Vassil Dimitrov has been a Executive Director of Classic FM Radio, since 2001 – of Jazz FM Radio, too, and since 2003 he has been a director of CJ Radio Company which owns and manages the radio stations Classic FM, Jazz FM, N-Joy, Z Rock, Melody and bTV radio.
He is a President of the European Music Festival (since 2001) and of the Sofia Jazz Peak (since 2003), Chairman of the Managing Board of the Bulgarian Media Coalition, and in 2005 he becomes founder of the Art Managers Association in Bulgaria.