Svetlin Roussev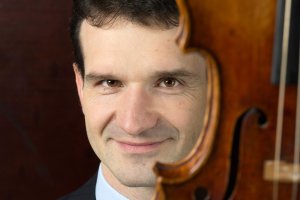 The charismatic violin virtuoso, Svetlin Roussev, began his musical education at a very young age as a student of his mother, a professor at the music school in his home town of Ruse, Bulgaria. He was accepted in 1991 to the "Conservatoire National Supérieur de Musique et de Danse de Paris" in the classes of Gérard Poulet, Devy Erlih and Jean-Jacques Kantorow. In 1994 he was unanimously awarded a First Prize, summa cum laude, for violin and a First Prize for chamber music and subsequently entered the postgraduate program.
Svetlin Roussev has won numerous prizes at many international competitions (Indianapolis, Long-Thibaud, Melbourne…) He was voted "Revelation of the year 2000" by the ADAMI at the French industry music festival "Midem" of Cannes and was selected for sponsorship by the Natexis-Banques Populaires Corporate Foundation. May 2001, saw him covered with praises as he was awarded First Prize, Special Audience Prize and Special Prize for the best interpretation of a Bach concerto at the 1st "Sendaï International Competition", in Japan.
With remarkable virtuosity and intensity, Svetlin Roussev performs a broad ranging repertoire from the Baroque to the contemporary. He is also reknowned for his renditions of Slavic compositions and is one of the foremost propagators of Bulgarian music. Acclaimed in 2006 Bulgarian "Musician of the Year", Bulgaria honored him, yet again, in 2007 with the "Cristal Lyra" distinction awarded by the Ministry of Culture.
Svetlin Roussev is a regularly invited guest soloist with various orchestras such as the Orchestre National de France, Orchestre Philharmonique de Radio France, Seoul Philharmonic Orchestra, Tokyo Philharmonic Orchestra, Sendai Philharmonic, Indianapolis Symphony orchestra, Bucarest National George Enescu Orchestra, Roumanian National Radio Orchestra, Bulgarian National Radio, Ankara Presidential Orchestra, Johannesburg Philharmonic, and Symphony Orchestras in the United-States, Latin America, Asia and Europe and has performed under the baton of such conductors as Myung-Whun Chung, Leon Fleisher, Yehudi Menuhin, Yuzo Toyama, Marek Janowski, Raymond Leppard, John Axelrod, François-Xavier Roth, Jean-Jacques Kantorow, Denis Russel-Davies, Lionel Bringuier, Leo Hussain.
Svetlin Roussev has played in many of the world's concert halls: the Bolchoï Theater, Suntory Hall, Sumida Triphony Center Hall, Seoul Arts Center, Salle Pleyel, UNESCO, Théâtre des Champs Elysées, Théâtre du Châtelet, Cité de la Musique, Théâtre de la Ville, Arsenal de Metz, Halle aux Grains de Toulouse, Bulgaria National Concert Hall, Budapest Bela Bartok National Concert Hall, Frankfurt Alte Oper, Palais des Beaux Arts de Bruxelles.
Svetlin, shares his love for music with an ever widening public through his chamber music performances with partners such as Myung-Whun Chung, Jean-Marc Luisada, Nicolaj Znaider, Philippe Cassard, Jean-Philippe Collard, Eric Le Sage, Ralph Gothoni, Peter Frankl, Antoine Tamestit, Vladimir Mendelssohn, Gary Hoffman, Arto Noras, Sung Won Yang, Young Hoon Song, Xavier Philips, François Leleux, Paul Meyer, Philippe Bernold and he is a founding member of the "Roussev-Salque-Rozanova Trio".
Following on the heels of his successful CD recording of pieces by Pancho Vladiguerov with the pianist Elena Rozanova, Svetlin has brought out his recording of Karl Amadeus Hartmann's "Concerto Funèbre", with the Orchestre d'Auvergne, conducted by Arie Van Beek and recordings for French labels Integral and Fondamenta, dedicated to the Franco-Belgian school of violin with pianist Elena Rozanova and pieces by Grieg and Medtner with pianist Frédéric D'Oria-Nicolas, and Vladigerov n1 violin concertos under the baton of Emil Tabakov and the Bulgarian National Radio Symphony Orchestra and in 2016 DECCA released the piano trios by Mendelssohn n1 and Dvorak "Dumky" with Elena Rozanova and François Salque followed by works by Ysaÿe for violin and orchestra and Lalo Symphonie Espagnole.
Since 2016 Roussev is the concertmaster of the Orchestre de la Suisse Romande.
He was the concertmaster of the Radio France Philharmonic Orchestra between 2005 and 2017, and of the Seoul Philharmonic Orchestra between 2007 and the end of 2015.
Roussev is violin professor at his alma mater, the Conservatoire National Supérieur de Musique et de Danse de Paris.
Svetlin was the artistic director and artist in residence of the Sofia Philharmonic Orchestra between 2016 and 2018.
Svetlin Roussev plays the Stradivarius 1710 Camposelice violin kindly loaned by the Nippon Music Foundation.