Maxim Eshkenazy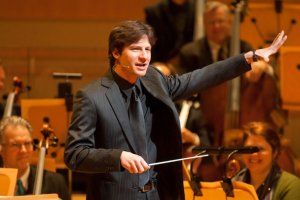 Considered a rising star among today's youngest generation of conductors, Maxim Eshkenazy has been described as a musician of "vigor and intelligence" who conducts with "complete assuredness and insight." The Los Angeles Times calls him "charismatic and exciting."
Since July 2008, Mr. Eshkenazy has been Assistant Conductor of the Pacific Symphony Orchestra in the U.S. His past conducting appointments have included Music Director of the Bakersfield Youth Orchestra and Assistant Conductor at the Colburn School in Los Angeles. Previously he was associated with the Pasadena Youth Symphony as its Music Director, and served as Music Director of the Music of Changes Chamber Orchestra, Assistant Conductor of the American Youth Symphony, and Assistant Conductor of the Herbert Zipper Chamber Orchestra.
Mr. Eshkenazy regularly guest conducts Bulgaria's major orchestras, including the Sofia Philharmonic, the Classic FM Radio Orchestra, the Pleven Philharmonic, and the Bourgas Philharmonic among others. Committed to promoting new music, Mr. Eshkenazy is frequently involved in performing music by contemporary composers. In April 2007, he shared the concert stage in Sofia with noted violinist Shlomo Mintz and the Classic FM Radio Orchestra in celebration of the State of Israel Independence Day. In August 2009, he made his debut at the Woodstock Mozart Festival in Illinois. Previous highlights include a concert with violin virtuoso Pinchas Zukerman and the Classic FM Radio Orchestra, which received nation-wide attention and was broadcast on Bulgarian National Television.
At the Colburn School of Performing Arts in Los Angeles, Eshkenazy is the Music Director and Conductor of the Colburn Chamber Orchestra and Music Director and Conductor of the Colburn Orchestra. In September 2010, members of the Colburn Orchestra traveled with Mr. Eshkenazy to Bulgaria to participate in Fortissimo Fest. Other notable professional engagements in recent years have included concerts with American violinist Midori and the Classic FM Radio Orchestra, as part of The Music of America series (May 2011), concerts with world famous violinist Joshua Bell and the Classic FM Radio Orchestra, as part of The Music of America series (February 2013), the creation of the Fortissimo Festival and educational series (2010), as well as his appearances as guest conductor in the European Music Festival with the Pacific Symphony Youth Orchestra in Sofia, Plovdiv and Varna (June 2011), among others.
Maxim Eshkenazy began studying violin with his father at the age of five. A graduate of the National Academy of Music in Sofia, he then went on to specialize in violin and conducting at the University of Southern California. An alumnus of several world-class conducting schools and workshops including the Pierre Monteux School in Maine, Mr. Eshkenazy was awarded a coveted Conductor's Fellowship to the newly established American Academy of Conducting at the Aspen Music Festival in the summer of 2000.
An avid sportsman and licensed pilot, Maxim Eshkenazy currently makes his home in Southern California.