MAXIM ESHKENAZY: PIXAR IN CONCERT IS BOUND TO BE A MILESTONE EVENT IN 2016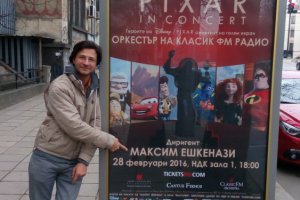 January 4, 2016, Sofia
"Pixar in Concert is bound to be one of the milestone music events in 2016", said popular conductor Maxim Eshkenazy in a special interview on the occasion of his role in this concert. The multi-media production of The Walt Disney Company, presented by music company Cantus Firmus and America for Bulgaria Foundation can be seen on February 28, 2016,18:00 h., at the National Palace of Culture's Main Hall, as part of the "Music of America" concert series. This event has been licensed by Disney Music Publishing and Buena Vista Concerts.
The show is to feature a unique fusion of animated film and live music, performed by the Classic FM Radio Orchestra. Special film clips, presenting synthesized versions of the respective featured films, are to be projected in sync with the live music performance. This concert showcases 14 film titles, including children's classics from the past two decades. Toy Story, Cars, Finding Nemo, Brave, and Ratatouille have completely changed our perception of animated film, due to the unique high quality photorealistic imaging technology developed by Pixar Film Studios.
The realization of this Pixar in Concert project is a long-awaited dream come true for conductor Maxim Eshkenazy. Even though he is past his years as a child, when the Studio's first films were released, the famed conductor is an ardent fan of Pixar's animated features. "The film UP had a great influence on me," Mr. Eshkenazy recalls. "I don't know how other kids reacted to it, but I personally found it fascinating. I remember crying in the movie theater when I first saw it. My other favorites are WALL-E, and of course – Finding Nemo. These are timeless films for all ages," added the conductor. Typical of all Pixar productions are the original stories in the films, the top quality writing, as well as the special attention that is given to the musical score. "The music is not just a passive backdrop, it is part of the action," said Mr. Eshkenazy. "As a professional classical musician, I find this music deeply moving. It touches me and I can identify with it."
The outstanding musical scores of Pixar's animated films were created by four composers – Randy Newman, Patrick Doyle, Thomas Newman and Michael Giacchino. Proof of the quality of their work are the numerous awards these four artists have collectively garnered, including 10 Grammys, three Academy Awards, and another 10 Academy Award nominations. "Music is bound to have an even greater effect on its listeners, when performed live in the concert hall," added Mr. Eshkenazy. "In this way, people can immerse themselves in the music, which will move them and touch them in a unique manner."
Ticket prices for Pixar in Concert vary between 20 and 60 Bulgarian leva (BGN). Tickets are currently on sale at the Cantus Firmus box-office at Bulgaria Hall, the box-office of the National Palace of Culture, as well as online at www.ticketsbg.com. For children up to six years old, who will not be using a separate seat, tickets are priced at 2 BGN.