POLI GENOVA TO HOST PIXAR IN CONCERT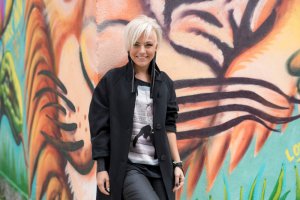 POLI GENOVA TO HOST PIXAR IN CONCERT
February 1, 2016 – Sofia
Bulgarian singer Poli Genova is to host Pixar in Concert – a unique music show, which is to take place on February 28 at the Main Hall of Sofia's National Palace of Culture. The program is to include popular film music from famous Pixar Studios productions, such as Cars, Toy Story, Brave Heart, and Finding Nemo, among others. The Classic FM Radio Orchestra is to perform the scores to these beloved films under the baton of conductor Maxim Eshkenazy. Video clips presenting the film stories in short are to be projected, parallel to the live music performance. This concert is a featured event in this year's edition of the Music of America concert series, presented by music company Cantus Firmus, with the kind support of the America for Bulgaria Foundation. Pixar in Concert is licensed by Disney Music Publishing and Buena Vista Concerts.
Poli Genova is a big fan of the films produced by Disney–Pixar. She is delighted at the opportunity to partake in the project, and in addition to presenting the different pieces, she is to also take on the role of a performer and to sing the song, You've Got a Friend, written by Randy Newman for the film Toy Story.
Ms. Genova showcased her talent as a host during the 2015 Eurovision Song Contest in November of last year. As a testimonial to her achievement in this event, she went on to receive the Eurostar Award. Poli Genova began her music journey as early as the age of four, and in 1995 she became one of the members of the pop band, Bon-Bon. To this day, she continues working with her vocal coach, Rozi Karaslavova.
Pixar in Concert ticket prices range from 20 to 60 BGN and are available at the Cantus Firmus box-office at Bulgaria Hall, the NPC ticket center, and online at www.ticketsbg.com. Children under 6 who do not require a separate seat, will have the opportunity to see the concert at a nominal price of 2 BGN, which covers their insurance, as requested by Disney for this event.