PIXAR in CONCERT Presents Music from 14 Films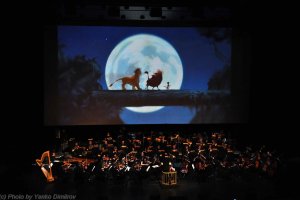 Four of Hollywood's most prominent composers are to be featured
February 19, 2016 – Sofia
On February 28 at 6PM, multimedia production Pixar in Concert showcases music from 14 Pixar Studios films released until 2014. The concert is to take place at the National Palace of Culture, Hall One and is to present some of the most memorable visual and musical moments from such beloved films as Cars, Toy Story, Finding Nemo, and Brave, as a well as a few other animated films, which have become increasingly popular over the past two decades. This program actually includes all Pixar Studios feature animated films, produced to-date, with the exception of the two most recent films, released in 2015 – Inside Out and The Good Dinosaur. All the music in this concert is to be performed live by the Classic FM Radio Orchestra with Maxim Eshkenazy on the conductor's podium and popular singer Poli Genova as host. This concert is a featured event in this year's edition of the Music of America concert series, presented by music company Cantus Firmus, with the kind support of the America for Bulgaria Foundation. Presentation licensed by Disney Music Publishing and Buena Vista Concerts, a division of ABC Inc. © All rights reserved.
Pixar's first film, Toy Story, was released in 1995 and became the year's top-grossing film. Its clever story about a child's playthings, including cowboy doll Woody (voiced by Tom Hanks) became ever so popular. The film won a Special Achievement Oscar as the first feature-length computer-animated film. The music score was composed by Randy Newman. One of the most recognizable songs in it, "You've Got a Friend in Me" is to be performed by singer and host Poli Genova live in concert on February 28. Randy Newman is a famous pop songwriter, pianist, and film composer, who began writing film music as early as 1980. He wrote the music to such notable films as Avalon, Ragtime, Awakenings, The Natural, and Pleasantville. In addition to Toy Story, Newman also created the music for several other Pixar hit films, such as A Bug's Life, Cars, and Monsters, Inc. Randy Newman won his first Academy Award for the song, "If I Didn't Have You" from Monsters, Inc.
Another major Pixar film composer is Michael Giacchino. He wrote the music to four of Pixar's most successful films – Ratatouille, Cars 2, The Incredibles, and Up, for which he won an Academy Award. Currently, Mr. Giacchino is one of Hollywood's most sought-after composers. His more recent film projects include Mission: Impossible – Ghost Protocol, Dawn of the Planet of the Apes, Tomorrowland, Jurassic World, as well as Pixar's latest animated feature, Inside Out.
Finding Nemo (2003) became the first Pixar film to win the new Oscar category of Animated Feature Film. Its music was composed by Thomas Newman – Randy Newman's cousin, who also has an impressive career as a film composer (The Shawshank Redemption, Little Women and American Beauty). Thomas Newman also wrote the music to Pixar's WALL-E.
For the film Brave, Pixar's producers decided to appoint the score-writing task to Scottish composer Patrick Doyle, Oscar-nominated for Sense and Sensibility, and perhaps best-known for his scores for Kenneth Branagh's Shakespeare films. Brave takes us to tenth-century Scottland and tells the story of a young princess named Merida, who defies her parents by refusing an arranged marriage. Much like the film's protagonist, Doyle's music has unique qualities and its own distinctive character. The composer created a colorful and authentic-sounding musical backdrop that includes such ethnic sounds as Celtic fiddle, Celtic harp and whistles, Uilleann pipes and bagpipes. For the live performance on February 28, however, these original parts will be interpreted by the Bulgarian folk instruments kaval (shepherd's flute) and djura gaida (traditional bagpipe), which will incorporate an authentic Bulgarian sound into the concert. The Classic FM Radio Orchestra will be joined by two expert musicians from the Philip Koutev National Folklore Ensemble – Lyubomir Zhelev (kaval) and Kostadin Atanasov (djura gaida).
Ticket prices for Pixar in Concert vary between 20 and 60 Bulgarian leva (BGN). Tickets are currently on sale at the Cantus Firmus box-office at Bulgaria Hall, the box-office of the National Palace of Culture, as well as online at www.ticketsbg.com. For children up to six years old, who will not be using a separate seat, tickets are priced at 2 BGN.