Italy's most prominent brass quintet demonstrates its artistry with music ranging from the Renaissance to the present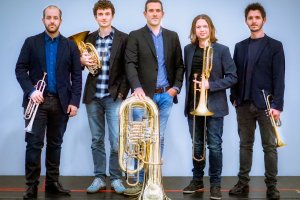 ITALIAN WONDERBRASS are to perform a concert at the European Music Festival on May 18
May 8, 2018, Sofia
Italy's most prominent brass quintet is to showcase its musical mastery before Bulgarian concertgoers with music ranging from the Renaissance to the present. The ITALIAN WONDERBRASS ensemble is to perform a concert as part of the European Music Festival on May 18, 2018 starting at 7:30PM at Bulgaria Concert Hall in Sofia.
The quintet was founded in 2006 and quickly became recognized among both critics and audiences alike. It was hailed as "the World's best young brass quintet". The ensemble includes trumpeters Giuliano Sommerhalder and Omar Tomasoni, Jorge Monte de Fez (French Horn), Gabriele Marchetti (trombone), and Javier Castaño Medina (tuba). All musicians are active soloists and members of prestigious European orchestras, such as the Royal Concertgebouw Orchestra in Amsterdam, the La Scalla Theatre Orchestra in Milan, the Spanish National Orchestra, and the Gewandhaus Orchestra in Leipzig.
For their concert in Sofia, the ITALIAN WONDERBRASS have prepared a program featuring original brass quintet compositions, as well as arrangements of popular operatic and orchestral pieces. "You will experience the true Italian spirit and a warm immersion into the brass sound, and for 90 minutes you will travel with our music throughout Italy and Central Europe," said trombonist Gabrielle Marchetti in an interview for Classic FM Radio. The program is to begin with 16th century music by Giovanni Gabrieli and Luca Marenzio. This will be followed by excerpts from J. S. Bach's outstanding The Art of Fugue, as well as quintet arrangements of arias from the opera masterpieces Cavalleria rusticana, Pagliacci, and La Boheme. Works by Leonard Bernstein and Leonhard Paul add to the program's stylistic diversity, while Fabiano Fiorenzani's piece Bel Canto, also to be heard in this concert, was commissioned by the quintet.
Tickets for this event are priced at 10, 15, and 20 Bulgarian Leva. Tickets are on sale at Cantus Firmus' box-office at Bulgaria Hall, as well as online at ticketsbg.com.
This concert is organized with the support of the Italian Cultural Institute in Sofia. The European Music Festival, presented by Cantus Firmus, is part of the 2018 Sofia Municipality Cultural Calendar. The Ministry of Culture of Bulgaria is co-organizer of the European Music Festival.