VIDEO GAMES LIVE premieres in Bulgaria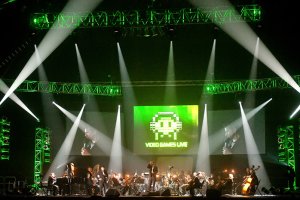 The multimedia show featuring popular video games music comes to Sofia this fall
June 20, 2019, Sofia
VIDEO GAMES LIVE, a multimedia concert experience featuring music from the most popular video games of all time, makes its Bulgarian debut at the invitation of Cantus Firmus. The show combines the emotion of a large-scale symphony orchestra with the energy of a rock concert, while also mixing in the technology and interactivity of a video game. All this is synchronized with amazing cutting-edge video screen visuals, lighting, and special effects, to make up the perfect recipe for success. Exclusive video footage is set to music arrangements, performed by the Classic FM Orchestra and Choir under the baton of guest conductor Bryan Deans. Acting simultaneously as emcee and soloist is legendary guitarist and composer Tommy Tallarico, creator and producer of the show. The program includes music to hit video games, such as Mario™, Warcraft®, Zelda®, Halo®, Castlevania®, God of War™, League of Legends®, and Tetris, among many others. In addition, the live performance is embellished by special effects, synchronized lighting, and the appearance of electronic percussionists. Whether it is the power of more recent video game blockbusters, or the excitement of remembering the sentimental classics we played growing up, this concert is a truly memorable experience for the entire family. VIDEO GAMES LIVE is scheduled to take place in Sofia on November 20, 2019 at the National Palace of Culture. The start time is 8PM, and tickets range from 50 to 100 BGN.
VIDEO GAMES LIVE was first created and premiered in 2002. Since then, this grand multimedia show has performed to sold-out halls and has attracted a record-breaking number of viewers world-wide. "This is an incredible opportunity to reach an audience that normally may not be familiar with how far video games have come and how amazing their music can be," says composer Tommy Tallarico. He adds, "It's an honor for us to be a part of such a groundbreaking project."
The live show VIDEO GAMES LIVE includes audience participation with special interactive segments, a video game hero costume contest, as well as a Meet & Greet with the performers, open to all ticket holders.
Tickets for VIDEO GAMES LIVE are on sale as of June 20, 2019. Tickets can be purchased online at www.ticketsbg.com, in person at the National Palace of Culture's box-office, or alternatively, through the Eventim network. The most enthusiastic fans will have the opportunity to purchase special VIP tickets, which include a behind-the-scenes tour, an exciting encounter with living legend Tommy Tallarico, as well as special merchandise. For more information, please visit us at www.cantusfirmusbg.com and www.videogameslive.com.