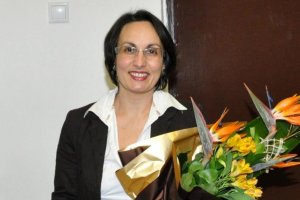 Radostina Uzunova

Notice: Undefined variable: lang in /home/cantusf/public_html/wp-content/themes/cf-theme/single-cat/single-cat-10.php on line 19


r.uzunova@cantusfirmusbg.com


She graduates at the Music School in Burgas with a flute major (1986) and at the P. Vladiguerov State Music Academy, Sofia (1991) with a Master's Degree in Music Theory. She performs teaching activity and works as a reporter and author of the music-educational programmes for children "Music Key" and "Drawer of Sounds" on the Bulgarian National Radio (1994-1996). In 1997 she joins the Classic FM Radio team as an author and speaker of the programmes "Some Time Ago", "Morning Coffee" and "The Birthday Person of Classic FM" (a programme awarded the special prize of the Eighth Muse Radio Competition 2007). In the period 2002-2005 she is an author and screenwriter of the programmes "On the Waves of Music" and in 2008 – of "Glory Laboratory" on Channel 1 of the Bulgarian National Television. Since 1987 she has been singing with the V. Arnaudov Sofia Chamber Choir. She is a member of the Union of the Journalists and of the Union of the Film Workers in Bulgaria.