Dimiter Ivanov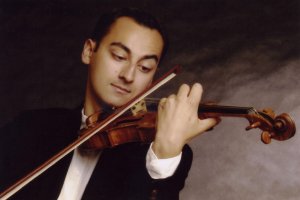 Dimiter Ivanov was born in Sofia, Bulgaria. After moving to Germany with his parents in 1981, he received his first violin lessons from Georgi Tilev. Later he studied with Prof. Grigori Zhislin (Würzburg), Prof. Miriam Fried (Bloomington/Indiana), and Prof. Ulf Wallin (Berlin).
He has won prizes at several international violin competitions, such as those named after Henryk Szeryng (Mexico), Andrea Postacchini (Italy), Johannes Brahms (Austria), Rodolfo Lipizer (Italy), and Gerhard Taschner (Berlin).
He has appeared as a soloist with various orchestras, including the Cracow Radio Symphony Orchestra, the Nuremberg Symphony Orchestra, the Würzburg Philharmonic Orchestra, Konzerthausorchester Berlin, Orchestra del Teatro Lirico di Cagliari, Berlin-Brandenburgisches Sinfonieorchester, and the Frankfurt Opera Orchestra.
Since 2002 he has been a member of the Ensemble Incendo Berlin, with which he has recorded three CDs.
From 2005 to 2008 he was First Concertmaster of the Orchestra del Teatro Lirico di Cagliari in Italy.
Since 2008 he is First Concertmaster of the Museumsorchester Frankfurt, the orchestra of the Opera in Frankfurt am Main, Germany.
Since the winter semester of 2010/11 he is Substitute Professor at the Hochschule für Musik Hanns Eisler in Berlin, where he teaches the violin class of his former professor, Ulf Wallin.