Richard Clayderman arrives in Bulgaria today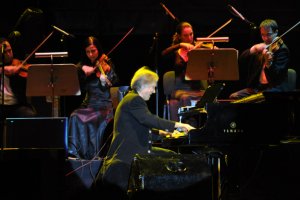 03.04.2013 World renowned French pianist Richard Clayderman will be arriving today in Bulgaria to perform a concert on April 5th at the National Palace of Culture, Hall One. This event is part of the 2013 European Music Festival, organized by Cantus Firmus and supported by the Municipality of Sofia and the Ministry of Culture of the Republic of Bulgaria. Mr. Clayderman, who Nancy Raegan calls "The Prince of Romance", will be visiting Bulgaria for the fourth time. He will be joined on stage by the talented musicians of the Classic FM Radio orchestra.
In 2013, the charismatic pianist will be turning 60, but he says that in his thoughts he still feels young, and he is happy to be able to perform all over the wolrd. "Traveling the world and meeting people inspires me and fuels me with energy and desire to continue playing. I am able to maintain my romantic spirit, because I love this music!" said Clayderman in an exclusive interview for Classic FM Radio.
Richard Clayderman's concert will also feature leading French percussionist Daniel Ciampolini, who has been working with Mr. Clayderman over the past two years. Mr. Ciampolini has been soloist of the Ensemble InterContemporain, where he has worked with great French composer and conductor Pierre Boulez. Mr. Ciampolini's presence will add an exotic element to the concert, as he will be performing on a unique Hang percussion instrument, made in 2000.