Rex Richardson to play Baroque & Jazz in The Music of America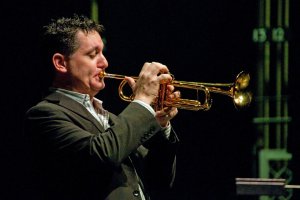 The concert will include the Classic FM Radio Orchestra and Bulgarian jazz players Angel Zabersky, Stoyan Yankulov, and Boris Taslev
The final Music of America concert for the 2012/2013 season will be held on April 23rd at 7:30PM at Bulgaria Hall. The event is organized by Cantus Firmus and America for Bulgaria Foundation, in partnership with Yamaha – Europe and Dynacord – Bulgaria. Trumpet player Rex Richardson, a Yamaha artist, will be performing in Bulgaria for the first time. He will be presenting a unique program, featuring Baroque concertos by Albinoni and Tartini, as well as jazz arrangements based on music by George Gershwin, Duke Ellington, and Loius Armstrong, among others. Bulgarian jazz musicians – pianist Angel Zabersky, percussionist Stoyan Yankulov – Stundji, and bassist Boris Taslev, along with the Classic FM Radio Orchestra conducted by Grigor Palikarov will have the pleasure of sharing the stage with Mr. Richardson.
Mr. Rex Richardson is currently one of the leading trumpet players worldwide. An energetic and imaginative improviser, he has collaborated with jazz legends Benny Carter, Ray Charles and Aretha Franklin. Mr. Richardson began his international career in 1995 as part of his own Rhythm & Brass ensemble. He has performed with the legendary Joe Henderson quintet, and since 2006, he has toured Europe extensively as part of William Russo's Chicago Jazz Emsamble.
With Mr. Rex Richardson's concert, the Music of America series will be featured in the European Music Festival, which is organized in part by the Municipality of Sofia and the Ministry of Culture of the Republic of Bulgaria, in support of Sofia's 2019 candidacy for a Europan cultural capital.