Vesko Panteleev – Eschkenazy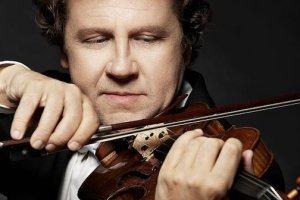 "Vesko Eschkenazy is a brilliant violinist" – remarks one of the largest dailies in the Kingdom of Netherlands, De Telegraaf in November 2000, after his interpretation of Karol Szymanovski's First Violin Concerto with the Royal Concertgebouw Orchestra in Amsterdam. Eschkenazy has been the Orchestra's concertmaster since the 1999/2000 concert season.
Born in Bulgaria in 1970 into a family of musicians, Vesko demonstrated orchestra leadership skills from an early age. In 1990, Vesko Panteleev-Eschkenazy moved to London where he completed a two-year Program for solo performers with Prof. Yfrah Neaman at the Guildhall School. There he received a Solo Recital Diploma (1992). Vesko Panteleev-Eschkenazy has appeared as soloist of the Royal Concertgebouw Orchestra, the Sofia Philharmonic Orchestra, the London Philharmonic Orchestra, the English Chamber Orchestra, the Monte Carlo Symphony Orchestra, the Mexico City Symphony Orchestra, the Netherlands Philharmonic Orchestra, the Prague Symphony Orchestra, the Irish National Symphony Orchestra, and the Bach Chamber Orchestra in Berlin, among others.
Since 2005, Vesko Panteleev – Eschkenazy has appeared regularly in Bulgaria with the Classic FM Radio Orchestra. His concerts are always in high demand and he performs in sold-out halls. During the 2010/2011 season, Vesko presented a very successful series of four chamber music concerts in Bulgaria Hall with pianists Liudmil Angelov, Georgi Cherkin, and Victoria Vassilenko. He received the 2010 "Musician of the Year" award.
Since the summer of 2000, Vesko Panteleev – Eschkenazy has been playing on a Guarneri del Gesu violin from 1738, property of an anonymous sponsor.