Grigor Palikarov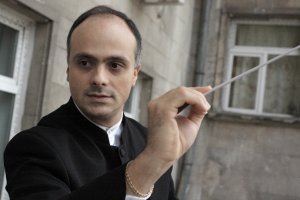 Grigor Palikarov was born in Plovdiv, Bulgaria, in 1971. He made his debut at the Sofia National Opera and Ballet in 1998, conducting a gala concert of Ghena Dimitrova. Appointed as conductor of the Sofia National Opera and Ballet in 2001, his current repertoire includes more than 30 operas and ballets. As of September 2008, he is permanent conductor of the Classic FM Radio Orchestra.
Palikarov regularly appears as guest-conductor with orchestras and opera companies across Bulgaria. He has taken part in prestigious national and international music festivals such as Sofia Music Weeks, March Music Days in Rousse, the European Music Festival, Austrian Music Weeks, the Festival of New Bulgarian Music, the Festival of Contemporary Music (in Pula, Croatia), and the May Opera Nights (in Skopje).
Grigor Palikarov has also built a career as an international guest-conductor, regularly leading orchestras in Germany, Austria, Belgium, France, Italy, Luxembourg, Slovenia, Taiwan, Japan and other countries. He has conducted the Royal Belgian Philharmonic Orchestra– Brussels, the National Opera and Ballet in Ljubljana, the Vienna Chamber Orchestra, the Taipei Century Symphony Orchestra (Taiwan), and many others. In March 2009 conductor Grigor Palikarov made his United States debut with Pietro Mascagni's L'Amico Fritz in Cleveland, Ohio.
During the season 2010-2011 Palikarov successfully realized several concert and opera premieres, among them is the great performance with Classic FM Radio Orchestra and violinist Glenn Dicterow, concertmaster of the New York Philharmonic.