Asen Tanchev, piano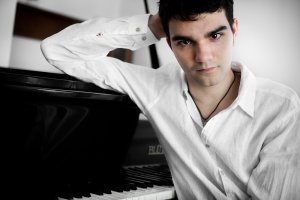 Born 1992 in Sofia, Bulgaria, Asen Tanchev began his musical studies at the National School of Music "Lyubomir Pipkov", Sofia.
Since 2009 Asen Tanchev studies at the University of Music, Drama and Media, Hannover, Germany in the piano class of prof. Arie Vardi.
To the present, Asen has won over 15 prizes from national and international competitions, among which are the 3. Prize at the 10. International Piano Competition HRH Princess Lalla Meryem in Rabat, Morocco, November 2012, member of the Alink-Argerich Foundation, and also winning in 2013 a scholarship at the prestigious Deutscher Musikwettbewerb in Stuttgart in the category Duo-Violin and Piano, which includes series of concerts in Germany. Also in 2012 he received one of the most important and renowned scholarships in Europe, namely the scholarship of the Foundation of the German people, becoming the first pianist with foreign citizenship in the history ouf this foundation to achieve this recognition.
Through all these years, Asen has had the opportunity and fortune of working with internationally renowned artists, such as Paul Badura-Skoda, Mihail Voskressenskij, Piotr Paleczny, Peter Buck, Einar Steen – Nökleberg, Bernd Goetzke, Karl – Heinz Kämmerling, Pavel Gililov, Boris Bermann, William Grand Nabore, Dimitri Bashkirov and others.
Asen has given recitals, as well as concerts with orchestra and chamber ensembles in Bulgaria, Italy, Germany, Poland, the Netherlands, Portugal, Spain, FYR Macedonia, Slovenia, Belgium, Austria, Russia and the United States.
Asen Tanchev has performed in concert halls, such as the Great Hall of the Moscow Conservatory; Sala de Cámara of the Madrid Philharmonics, as well as at important musical events, like the Oberstdorfer Musiksommer, Germany, where he is a laureate; the Sommerakademie Mozarteum in Salzburg; the "Vladimir Spivakov" Music Festival in Moscow; the "Musica Mundi" International Chamber Music Festival in Belgium etc.