Cantus Firmus Artists Management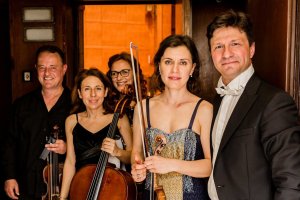 Music is a highly spiritual experience that can be attained and conveyed to listeners only through the dedication, hard work and talent of performers. That is why we have taken care to relieve our artists of the burden of organizing their concerts in Bulgaria and abroad.
The names of our artists speak for themselves: they are the present generation of Bulgaria's musical glory.
The Cantus Firmus Artists Management was founded in 2003 as Bulgaria Concert Agency by Vassil Dimitrov and Daniela Handjieva to answer the growing need for agency representation of Bulgarian musicians and for change in the manner of organizing concerts in Bulgaria.
The Management is part of the Cantus Firmus Music Agency, the organizer of a significant number (approximately fifty per season) of classical music concerts united in various concert cycles, as well as of the European Music Festival in Sofia, Varna and Plovdiv.
The Artists Management provides soloists and conductors – its own artists as well as guests from Bulgaria and abroad – and arranges concert programmes.
The Agency also works in partnership with other organizers of classical music concerts in Bulgaria. It assists public institutions, private corporations, companies and cultural institutes in finding appropriate forms and musicians for various celebrations, official dinners, receptions and other events.
Cantus Firmus Music Agency is constantly expanding its horizons, increasing the number of artists it represents as well as its activities abroad. In the last few years, the Agency has realized a series of joint projects together with major foreign agencies such as IMG Artists, Delphine Artists, Konzertdirektion Dr. Rudolf Goette, Brumfield Associates, Yamaha Music Europe, ACFEA, and SONY Classical International.