Violinist Elin Kolev's Debut in Sofia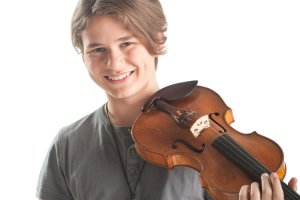 The European Music Festival will present its next event – the debut of 16-year-old violinist of Bulgarian descent, Elin Kolev. The event is highly anticipated by Sofia's concert-goers. The concert will take place tomorrow, May 14 at 7PM at Bulgaria Hall, and is part of the Classic FM Radio Orchestra's The Concertmasters series. The Orchestra will be conducted by Grigor Palikarov. For his big Sofia debut, Elin Kolev will be performing Mozart's Third Violin Concerto. The program will also include two more Mozart works, performed by the Classic FM Radio Orchestra – the C minor Adagio and Fugue, and the Symphony No. 29.
Elin Kolev was born in 1996 and grew up in Germany, where his musician parents worked. He made his debut as soloist with orchestra at the tender age of eight, to a hall of 5,000. At the age of 10, he was accepted at the Felix Mendelssohn-Bartholdy Hochschule für Musik und Theater in Leipzig. In 2010, Mr. Kolev continued his education at the Karlsruhe Music University, under Prof. Josef Rissin. In the spring of 2009, he completed his first U.S. tour. His Carnegie Hall debut was at the age of 12.
Mr. Kolev participated in the films, Wunderkinder by director Markus O. Rosenmueller, and Orchestra of Exhiles: Bronislaw Huberman, a documentary about the creation of the Israeli Philharmonic Orchestra.
Elin Kolev won first prize at the Eugene Ysaye International Violin Competition in Austria, the Best Young Musician award, as well as the Pablo Sarasate prize in Italy, the 2010 Young European Talent, awarded by Germany's European Cultural Foundation.
Mr. Kolev has performed with orchestras in Saxony, Brandenburg, Thuringia, and Baden-Wuertenberg. He has also performed in two New Year's concerts in Baden-Baden, Schwedzingen, as well as Festspielhaus's Great Hall (seating 1,900). In 2012, he made his Gewandhaus (Leipzig) debut, with the MDR Radioorchester, under Jun Maerkl.
The 2013 EMF is part the Sofia Municipality cultural events calendar, and is held under the patronage of Mrs. Yordanka Fandakova, Mayor of Sofia, in support of the city's 2019 candidacy for a European cultural capital.